Our family has been going through a season of loss. I'm sure we aren't alone. Like any situation, happy or sad, we've turned to the world of children's literature to help us navigate tricky situations, big feelings, and to spark conversations.
My nine year old daughter has been having a particularly hard time after we lost my 92 year old grandmother, just 3 weeks ago. There have been many moments of tears and hugs. This morning, I read her, Patricia MaLachlan's, When Grandfather Flew. I purchased this book weeks ago, but waited for the right moment to share it with her.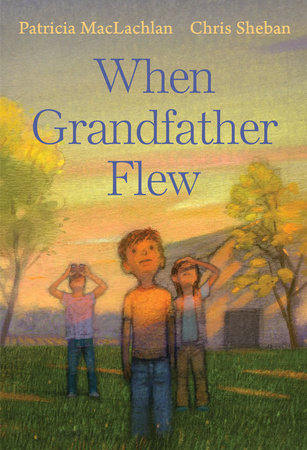 When Grandfather Flew, is the story of a family living with their grandfather who is a lover of birds. Patricia MacLachlan does a masterful job of weaving in family history to show just how special this family's relationship is. One day, when the kids come home from school, Grandfather wasn't there. "'But where is Grandfather?!' asked Milo." The family then rushed outside to see a bald eagle soaring. "'Grandfather got his wish!' called Milo. 'He sees the sky. He sees the world. He sees us! Grandfather flies.'"
After reading this story, my daughter Wren was pensive and quiet. "I liked it," she said. "It makes me think of the cardinal in our yard." Our own personal sign that we look for from those we love. This season of loss has been hard. It's so hard to see your own kids struggling with sadness. Luckily, there are some amazing stories out there that let us know that we aren't alone.