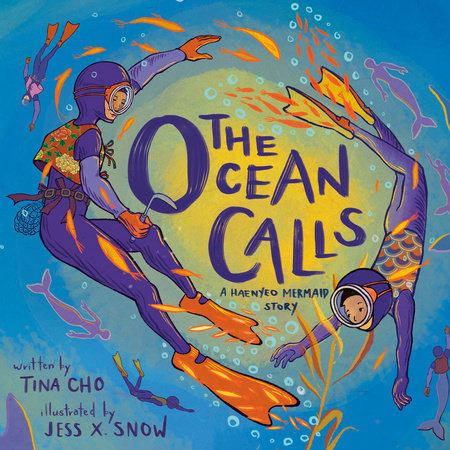 In the classroom, often times student struggle when trying to differentiate fiction from nonfiction. Sometimes, I will give students a group of books that they have to sort into two groups: fiction or nonfiction.
A similar activity can also be done with informational fiction titles. "Informational fiction presents facts and information within a fictional story." In The Ocean Calls by Tina Cho, the grandmother and the main character, Dayeon, are fictional characters. But as Dayeon learns to face her fear of the ocean, readers learn about the haenyeo tradition which centers around elderly women diving "in deep waters up to thirty meters."
After the fictional story arc, Tina Cho includes nonfiction back matter about the haenyeo tradition. She uses quotes from her interview with various haenyeo to organize the information in the back matter.
So, another way to help readers learn the difference between fiction and nonfiction, would be to give them an informational fiction title such as The Ocean Calls and ask them to read the whole book including the back matter. Then, ask them to identify whether Dayeon's story is fiction or nonfiction and explain why. After explaining that the story is fictional because it has made up characters, ask readers whether the back matter is fiction or nonfiction and to explain why. In the back matter, readers can identify the quotes from real people and learn the facts about the tradition and the dangers these brave women face every time they dive deep.
For those of you who wish to learn more about the author, Tina Cho, who is also a kindergarten teacher in Iowa, you can listen to me interview her on my podcast Chalk and Ink: The Podcast for Teachers Who Write and Writers Who Teach.
Today, Jyoti Rajan Gopal and I talk about the power of changing one word in a manuscript, exploring various storytelling modalities, and the magic of making a manuscript sound like music.As many of you know, my beloved dog, Buck, passed away a week ago. Normally, I don't record interviews with him in the room. But when Jyoti and I recorded this episode, I knew my days with him were numbered. So, I let him stay with me. He was completely quiet until the end of the episode when he barked. Normally, I would have cut it out. I even had Jyoti repeat her recommendations; however, when it came time to produce the episode, I couldn't do it. I couldn't cut him out. So, if you want to turn down your sound, around an hour and five minutes, please do so. This episode is dedicated to him.It's the end of the school year which means it's time to wrap up Chalk + Ink's second season. In two weeks, our final episode, "Top Ten Summer Writing Tips" will be available to download. So, there's no homework unless you want to listen to your favorite episodes from this season and let me know which tips I should consider featuring in the season finale.If you have enjoyed this podcast or if this podcast has helped you in any way, please write a review on Apple or Spotify or wherever you listen to your podcasts. Reviews help other listeners discover our content.Finally, I want to give a shout out to Sarah Brannen for Chalk + Ink's podcast art and congratulate her again on her Sibert Honor for Summertime Sleepers. Happy listening!