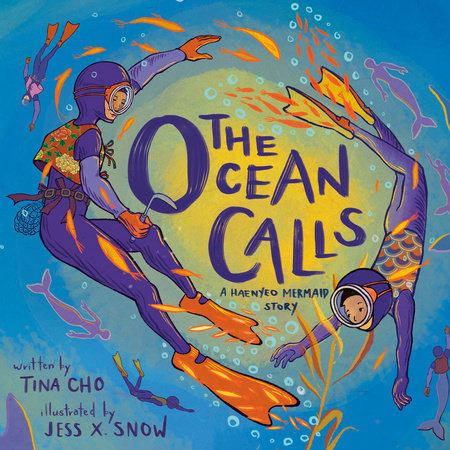 In the classroom, often times student struggle when trying to differentiate fiction from nonfiction. Sometimes, I will give students a group of books that they have to sort into two groups: fiction or nonfiction.
A similar activity can also be done with informational fiction titles. "Informational fiction presents facts and information within a fictional story." In The Ocean Calls by Tina Cho, the grandmother and the main character, Dayeon, are fictional characters. But as Dayeon learns to face her fear of the ocean, readers learn about the haenyeo tradition which centers around elderly women diving "in deep waters up to thirty meters."
After the fictional story arc, Tina Cho includes nonfiction back matter about the haenyeo tradition. She uses quotes from her interview with various haenyeo to organize the information in the back matter.
So, another way to help readers learn the difference between fiction and nonfiction, would be to give them an informational fiction title such as The Ocean Calls and ask them to read the whole book including the back matter. Then, ask them to identify whether Dayeon's story is fiction or nonfiction and explain why. After explaining that the story is fictional because it has made up characters, ask readers whether the back matter is fiction or nonfiction and to explain why. In the back matter, readers can identify the quotes from real people and learn the facts about the tradition and the dangers these brave women face every time they dive deep.
For those of you who wish to learn more about the author, Tina Cho, who is also a kindergarten teacher in Iowa, you can listen to me interview her on my podcast Chalk and Ink: The Podcast for Teachers Who Write and Writers Who Teach.
The inquisitive and energetic Jennifer Swanson talks about how expository texts are filled with tiny bits of information that fuel children's curiosity,  how writers need to do their research in order to learn the voices and genres of different houses before submitting, and the importance of painting pictures in students' and readers' minds. If you would like to connect after this episode, you can find Jen at
https://jenniferswansonbooks.com
or at
https://solveitforkids.com/
and on Twitter @JenSwanBooks. You can find me at
http://www.katenarita.com
or on Twitter @KateNarita.If you enjoy the show, please consider leaving a review  on iTunes, Stitcher, Google or wherever you download your podcasts so that more listeners can find us.Many thanks to Sarah Brannen for our podcast art. If you want to see more of Sarah's work please visit
http://www.sarahbrannen.com
or follow Sarah on Twitter @SarahBrannen. Her newest book, Summertime Sleepers, will be available in bookstores on April 27th. Congrats, Sarah!