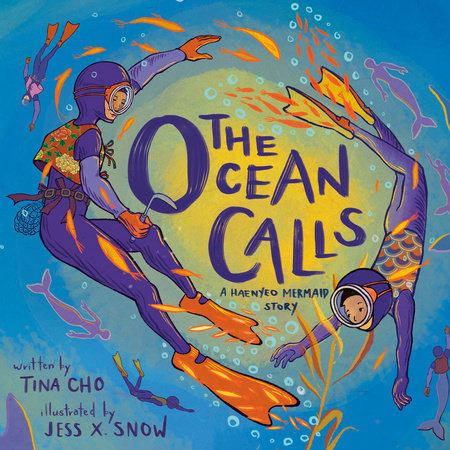 In the classroom, often times student struggle when trying to differentiate fiction from nonfiction. Sometimes, I will give students a group of books that they have to sort into two groups: fiction or nonfiction.
A similar activity can also be done with informational fiction titles. "Informational fiction presents facts and information within a fictional story." In The Ocean Calls by Tina Cho, the grandmother and the main character, Dayeon, are fictional characters. But as Dayeon learns to face her fear of the ocean, readers learn about the haenyeo tradition which centers around elderly women diving "in deep waters up to thirty meters."
After the fictional story arc, Tina Cho includes nonfiction back matter about the haenyeo tradition. She uses quotes from her interview with various haenyeo to organize the information in the back matter.
So, another way to help readers learn the difference between fiction and nonfiction, would be to give them an informational fiction title such as The Ocean Calls and ask them to read the whole book including the back matter. Then, ask them to identify whether Dayeon's story is fiction or nonfiction and explain why. After explaining that the story is fictional because it has made up characters, ask readers whether the back matter is fiction or nonfiction and to explain why. In the back matter, readers can identify the quotes from real people and learn the facts about the tradition and the dangers these brave women face every time they dive deep.
For those of you who wish to learn more about the author, Tina Cho, who is also a kindergarten teacher in Iowa, you can listen to me interview her on my podcast Chalk and Ink: The Podcast for Teachers Who Write and Writers Who Teach.
On today's episode the flexible and innovative Pernille Ripp talks about how there is no such thing as a perfect teacher, how when she writes she strives to create from an authentic and honest place, and how as educators we need to prioritize conversations with students to make sure we don't lose sight of the kids as we cross off items on our curriculum to-do lists. Pernille and I recorded this episode before the 2021 Global Read Aloud started on October 4th. But if you want to join there's still time to get in on the fun and connect with classrooms all over the world. Go to theglobalreadaloud.com to get started.We have some new features this year. At the end of every episode, I'll be assigning optional homework. Before November 5th, be sure to read Tina Athaide's Orange for the Sunsets. Once I started reading this historical fiction gem, I couldn't put it down. It's written from two points of view and is set during Uganda's 1972 expulsion of Asian Indians.I'm donating a copy of Passionate Readers to a lucky podcast listener. There are several ways to enter: 1) Tweet or retweet this episode and be sure to tag me and Pernille, 2) Go to
http://www.katenarita.com/podcast
and make a comment on this episode's post, 3) Make a comment about the episode on our Chalk + Ink Facebook page; and 4) Become a Chalk + Ink Patreon supporter. Patreon supporters are automatically entered into each giveaway. Each one of these actions is the equivalent of one entry which means people could have up to four entries for each giveaway. In order to enter the giveaway, these actions must be completed by midnight on Friday, October 29th. Wow! I can't believe October is almost over. The winner will be announced on Friday, November 5th, on the podcast as well as on Twitter and on our Facebook page.I have a favor to ask, if you enjoy this podcast, please leave a positive review wherever you listen to your podcasts. That will help other listeners find us.Finally, I want to give a shout out to Sarah Brannen for Chalk + Ink's podcast art. Sarah's latest book, Uncle Bobby's Wedding, earned a starred review from Kirkus.Thanks so much for your support.Happy listening!